La date/heure actuelle est Dim 24 Oct 2021, 23:36
1 résultat trouvé pour SPT-500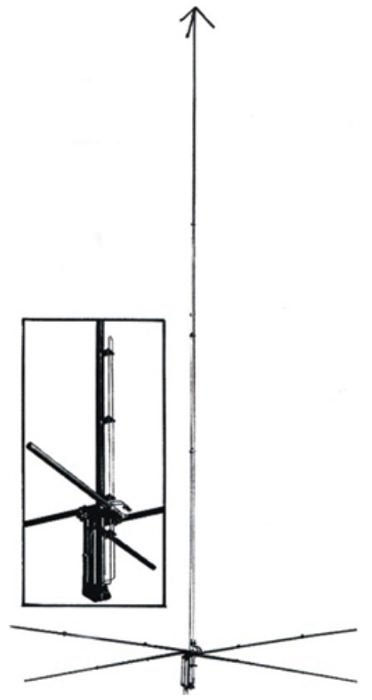 Gain (dB) 5.3 dB
SWR (at resonance) Less than 1.2:1
Nominal input impedance 52 Ohms
Plus de détails ici:

Lightning Protection DC Ground

Height 6.858 metres ( 22.5ft )

Radial Length 2.67 metres ( 8 ft 9 " )

Wind (Survival) 128 km/h ( 80 MPH )

Accepted mast size 3.175 cm to 4.5 cm ( 1 ¼" to 1 3/4 ") OD

This fantastic true full-size 5/8 Wave 10 / 11 / 12 Metre vertical antenna from Hy-Gain was a legend in the 70's . . . now it's back to prove its legendary status once again!

A Full-size radiator with lower radiation angle concentrates power closer to the ground, where you want it. Measures 22 foot, 9.5 inches. Larger diameter, heavy wall ply-tubular construction makes the new Super-Penetrator

the absolute top omnidirectional antenna around! Four full-length radials and special machine-formed brackets give extra talk-power and overall strength.

Electrical performance has been increased to a new standard by the use of a longer radiator and double-matching tuning with linear phasing techniques that provide low SWR and more radiated energy. The double-matching also provides a DC path to ground to drain off precipitation static, giving an extremely low noise antenna capable of high power.
Traduction Google:

Gain (dB) 5,3 dB

SWR (à résonance) Moins de 1,2: 1

Impédance d'entrée nominale 52 Ohms

Protection contre la foudre DC Ground

Hauteur 6,858 mètres (22,5 pieds)

Longueur radiale 2,67 mètres (8 pi 9 po)

Vent (survie) 128 km / h (80 MPH)

Taille de mât acceptée 3,175 cm à 4,5 cm (1 ¼ "à 1 3/4") OD

Cette fantastique antenne verticale pleine grandeur 5/8 vagues 10/11/12 mètres de Hy-Gain était une légende dans les années 70. . . il est maintenant de retour pour prouver une fois de plus son statut légendaire!

Un radiateur pleine grandeur avec un angle de rayonnement plus faible concentre la puissance plus près du sol, où vous le souhaitez. Mesure 22 pieds, 9,5 pouces. La construction tubulaire à plis épais de plus grand diamètre fait du nouveau Super-Penetrator

l'antenne omnidirectionnelle absolue absolue! Quatre radiaux pleine longueur et des supports spéciaux formés par machine offrent une puissance de conversation et une force globale supplémentaires.

Les performances électriques ont été augmentées à une nouvelle norme grâce à l'utilisation d'un radiateur plus long et d'un réglage à double adaptation avec des techniques de phasage linéaire qui fournissent un faible SWR et plus d'énergie rayonnée. La double correspondance fournit également un chemin CC vers la terre pour drainer les précipitations statiques, donnant une antenne à très faible bruit capable d'une puissance élevée.
Source Canada:
https://www.radioworld.ca/cb-radio/z-rad-cbr
#Hy-Gain
#SPT-500
par Dundee33

le Ven 17 Juil 2020, 15:22
Rechercher dans: Antennes Cibi Fixes
Sujet: Hy-Gain SPT-500
Réponses: 0
Vues: 226