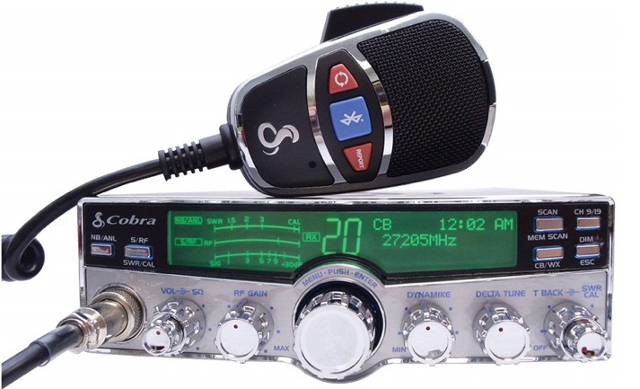 Radio "intelligente"
Cobra
29
LX MAX
Now here is the first SMART CB.
Drive safer with this legal CB Radio.
Mode: AM
4 Watts AM RF Power Output.
Channel Scan of All 40 Channels.
Plus de détails ici:

Features include:

Smartphone Enhanced Features, Legal Hands-Free Calls and Text Messaging

Make and Receive Phone Calls with the CB!

Make Calls and Send Text Messages Using Voice

Cobra iRadar

App Integration

Bluetooth

Wireless Technology with One-Touch Bluetooth Operation

Caller ID with Voice and Number Display Announcement of Incoming Call

External Microphone Included for Hand-Free Mode

Rewind-Say-Again

, Replay Missed CB Radio Transmissions

Selectable, 4-Color LCD Display In Green, Blue, Amber and Red

NightWatch

Illumination with Backlit Control Panel

And that's not all…..

Cobra

29

LX MAX Additional Features;

Report and Receive Live Police, Speed Traps, and Road Hazards.

Receive Red Light Camera Alerts.

Built-In 10 NOAA Weather Channels & Emergency Weather Alert.

Clock/ Timer/ Alarm/ Memory Channels/ Memory Scan.

Talk Back/ SWR Calibrations/ Delta Tune/ RF Gain/

Switchable NB/ANL. Day/ Night Dimmer Control.

Instant Channel 9/ 19. Noise Canceling CB Microphone.
Source USA: https://www.truckers-store.com/cobra-cb-radios/
#Cobra
#29
#LX
#Max
#intelligente
Dernière édition par Dundee33 le Sam 17 Avr 2021, 14:23, édité 1 fois
(Traduction Google)
"Smart CB Radio"
Avec les fonctionnalités améliorées de Smartphone et les appels téléphoniques légaux mains libres.
Intégration d'application Cobra iRadio
Signaler des pièges à la vitesse de la police en direct et des dangers de la route
Recevoir les alertes de la caméra rouge
Caractéristiques:
Alertes de la caméra rouge
Appels et SMS mains libres
Identification de l'appelant avec voix
Alertes météorologiques
Rewind-Say-Again
Affichage LCD 4 couleurs
Éclairage NightWatch
Dimensions de l'unité:
Hauteur - 2,25 "
Largeur - 7.25 "
Poids - 5,6 lbs
Dans la boite:
Radio
Microphone multifonction
Microphone externe pour appels téléphoniques mains libres
Matériel de montage pour CB et microphone
Cordon d'alimentation - Avez-vous besoin d'un cordon d'alimentation de remplacement? Consultez l' AUCB91 .
Le manuel du propriétaire
Carte d'enregistrement
FCC Rule Booklet
Autre:
4 Watts
40 canaux CB
10 chaînes WX (météo)
UPC: 028377201936
SKU: C29LXMAX
Des applications Apple / Android sont disponibles pour le C29LXMAX!

Source USA: http://www.wearecb.com/cobra-29-lx-max.html
Ou ici: https://www.buyradardetectors.com/cobra-29-lx-max.html



---
Permission de ce forum:
Vous
ne pouvez pas
répondre aux sujets dans ce forum