Page 4 sur 4 •
1, 2, 3, 4
J'ai bien connu l' EC 2018 avec mon Jackson, et depuis mes soucis de micro je me demande si réinvestir dans celui ci  ne serait pas une nécessité . au pire des cas je saurais le brocher pour le Lincoln.
Je vois chez PNI un clone relativement QRP 
Micro PNI
  qui plus est comporte la mention "
 Donnez-nous le type de station, et nous ajusterons le microphone.   Il peut être adapté à n'importe quelle station de radio à 4 broches, quelle que soit la marque, y compris les marques Midland et TTi.
Vous pensez que ce  micro est viable? il ressemble en tout point à l'original
Donnez-moi un lien avec ce dont vous avez besoin.

Silviu
@suport_PNI

a écrit:Donnez-moi un lien avec ce dont vous avez besoin.

Silviu
Bonjour.
Justement le lien est dans son message avec 'Micro PNI' Le voici en clair:
https://www.pni.fr/microphone-echo-a-4-broches-pni-pour-station-de-radio-cb.html
bonjour, j'ai compris maintenant que vous voulez le micro du lien abouve pour CB President Jackson ... II, je pense, sinon donnez-moi le lien pour votre CB s'il vous plait.
Après cela passez la commande en ligne sur
www.pni.fr
s'il vous plaît.
Silviu
Hi,
I want to open a new topic about the first portable CB with 5 levels of ASQ and RFG.
Station de radio CB portable PNI Escort HP 62, multi standard, 4W, 12V, AM-FM, ASQ réglable sur 5 niveaux, gain RF sur 9 niveaux, surveillance double, numérisation, verrouillage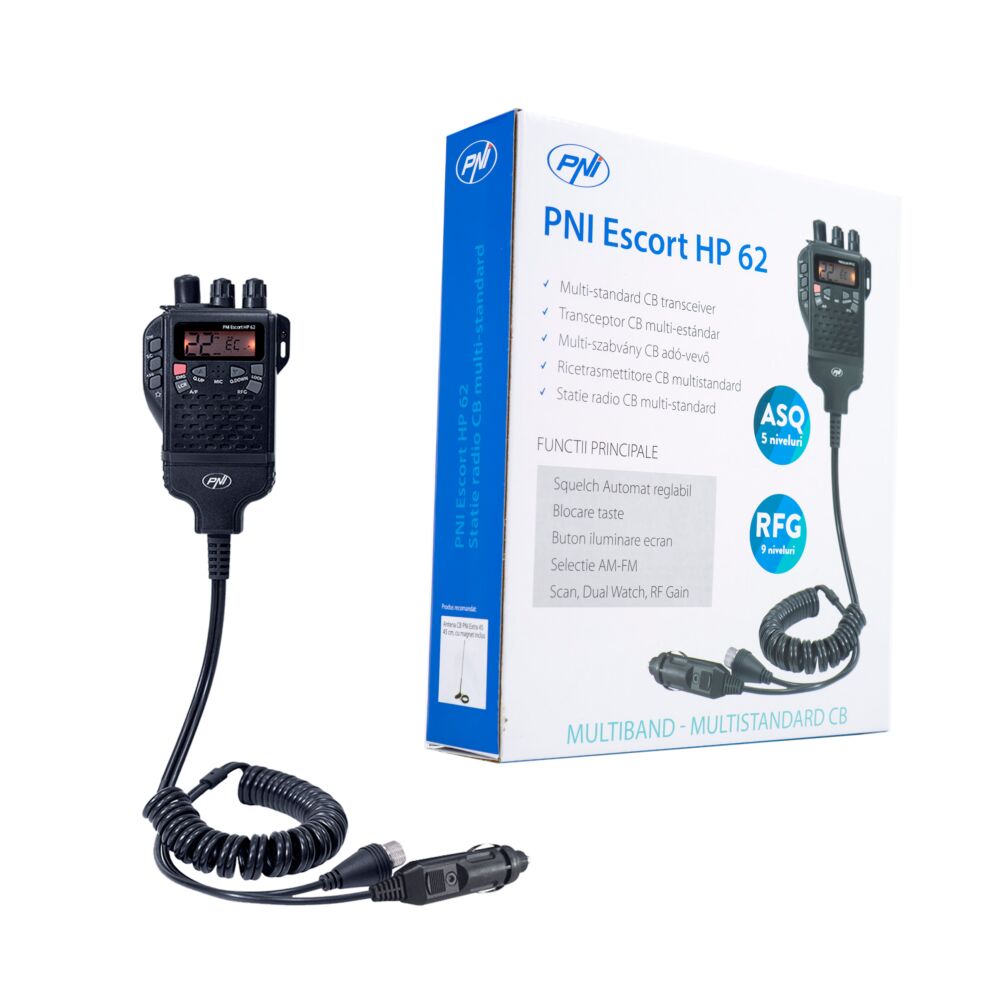 I want to remind you that users from this forum can receive 50% discount if they want to test and add a review.
Silviu
Salut,
Je veux ouvrir un nouveau sujet sur le premier CB portable avec 5 niveaux ASQ et RFG.
Station de radio CB portable PNI Escort HP 62, multi standard, 4W, 12V, AM-FM, ASQ réglable sur 5 niveaux, gain RF sur 9 niveaux, surveillance double, numérisation, verrouillage
Je tiens à vous rappeler que les utilisateurs de ce forum peuvent bénéficier de 50% de réduction s'ils souhaitent tester et ajouter un avis.
Silviu
Hi suport_PNI
Thanks for the store news. This post is really very practical. It's a bit like the Swiss Army Knife of the Cibi. On the other hand, a pity that it is not the SSB. It is a detail that penalizes him.
@Dundee33

a écrit:Salut suport_PNI

Merci pour les news de la boutique. Ce poste est vraiment très pratique. C'est un peu le couteau suisse de la Cibi. Par-contre dommage qu'il n'est pas la SSB. C'est un détaille qui le pénalise.
Hi,
I will tell you a secret, this CB can work 4 and 10 watts AM /FM

Silviu

Salut,

Je vais vous dire un secret, cette CB peut fonctionner 4 et 10 watts AM / FM


Silviu
Hi.
10 watts anyway. It is an ideal position for Rover Scouts who often change trucks because there is no installation to do and it is powerful enough.
@Dundee33

a écrit:salut.

10 watts quand même. C'est un poste idéal pour les Routiers qui changent souvent de camion car il n'y a aucune installation à faire et il est suffisamment puissant.
Salut,
Pas mal du tout en effet, plutôt pratique. 
Amitiés

Nico13




Localisation

: JN36BR


Age

: 53



Dedicated topic for the product: 
CB PNI Escort HP 9500 multistandard radio station, ASQ, VOX, Scan, 4W, AM-FM, 12V / 24V power supply, cigarette lighter plug included
technical support, information, details, testing and opinions of owners, users, future users.
An excellent product equipped with everything needed to communicate in the CB band
PNI Escort HP 9500 is a reliable CB station that ensures clear communication over long distances. With operation on AM and FM, multi-standard, 5-level automatic Squelch and adjustable Squelch, large multicolored lighting screen, the HP 9500 is equipped with all the basic functions necessary for CB band communication. On the front panel it has a 2-pin Kenwood connector for using the station hands-free.
Multi-band CB station
CB PNI Escort HP 9500 station allows communication in the main European frequency bands. Set the norm corresponding to the country you are in by simply pressing the MODE / BAND key. The selected band (UK, EU, DE) will be displayed on the screen during the use of the station.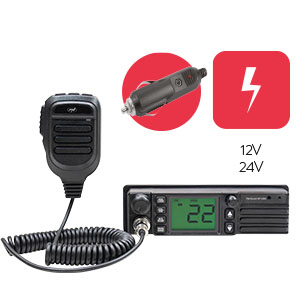 Posted image
Ultra-compact design, front speaker, 1 DIN mounting
PNI Escort HP 9500 has a robust, compact design making this station easy to place in any space in the car. The package includes a 1 DIN housing for mounting the station on board the car. The HP 9500 is a reliable companion for drivers of cars, trucks and trucks.
Lighter plug included
CB PNI Escort HP 9500 is powered by a voltage of 12V or 24V. The detachable power cord and the cigarette lighter plug required for power supply are included in the package.
Posted image
General characteristics
Furniture model
AM / FM band type
80 AM / FM channel
Frequency 26,965 - 27,405 MHz
Microphone type (pins) 6 pins
Audio power speaker 3 W
Sensitivity (20dB SINAD) 0.5μV (AM), 0.25μV@12Db (FM)
Audio signal distortion less than 5% @ 1KHz
Emission power 4 W
2 KHz modulation ± 0.2% KHz (FM)
12 V / 24 V power supply
Absorbed current max. 1.8A
Dimensions (W x H x H / Weight) 187 x 56 x 85 mm / 786 g
Montage 1DIN Yes
Special features
Scan channel Yes
ASQ Yes, 5 levels
Keypad lock Yes
Adjustable ASQ Yes
Urgent channel button Yes
Multicolor screen Yes, blue, red, cold green, purple, cyan, warm green, light blue
VOX Yes
Manual squelch Yes
Accessory connection Kenwood 2-pin plug
Operating temperature -26 ° C ~ + 60 ° C
Dim Da
Rear panel connections
Additional speaker connection Yes
The package contains
Radio station Yes
Microphone Yes
Radio station mounting bracket and screws Yes
Microphone holder and screws Yes
Power cord Yes
Lighter plug Yes
User manual Yes
Mounting housing 1DIN Yes
Note:
The power expend is through buttons 
Hold PTT +DOWN key then turn on the power, the screen will show current powr level is LO or HI, then use the UP and DOWN key to select the power you want , press the PTT to confirm
---------------------------------------------------------
We want to offer support for radio station users in general and especially to those who want to purchase PNI stations.
We provide all PNI products with a 50% discount.
To purchase products for testing, please place your order on our website and use the discount code for forum member

PNI50

this discount can only be offered to the first 10 users per each product.

Silviu
Salut.
Merci pour cette info.
Vue le poste, je le vois bien en Camping-Car et en 4x4. Quoi-que, dans n'importe quelle voiture car il est vrai que pour installer quelque chose dans une voiture moderne ce n'est pas toujours chose facile.
Page 4 sur 4 •
1, 2, 3, 4
---
Permission de ce forum:
Vous
ne pouvez pas
répondre aux sujets dans ce forum