La date/heure actuelle est Mer 20 Oct 2021, 03:06
4 résultats trouvés pour SR-955HP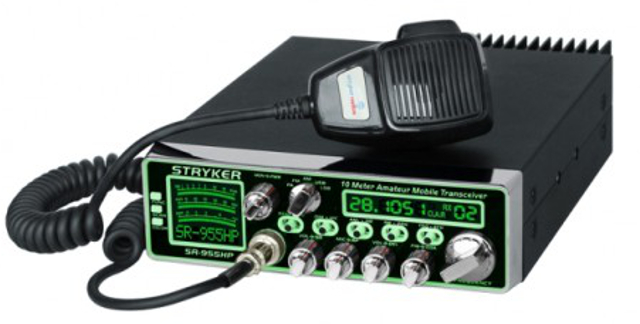 (Poste R.A. vendu aux Cibistes)
AM, FM & SSB
70+ watts PEP
7-Color
Plus de détails ici:

High performance stable SSB operation
Outstanding AM audio and PC programming make the SR-955HPC the new industry standard!
The new Stryker SR955HPC was designed from the ground up for excellent all mode performance.
Up until now most 10 meter mobiles that performed well on SSB weren't very good on AM.
The other half that were great on AM were terrible on SSB, at last we've designed a radio that excels on AM, FM & SSB!
Important Features Include:
High Power - The SR-955HPC is uses four FQP13N10 mosfet transistors that produce 70+ watts PEP. If you want be heard, the SR-955HPC has the power required to do some serious talking.
7-Color Frequency Display - The SR-955HPC features a 7-Color frequency display (Stryker Exclusive)
Brilliant 7-Color LED Backlit Face Plate- Choose from 7 colors with the push of a button or let the CPU controller scan through all of the colors on it's own. Our exclusive face plate design provides operators with back lighted controls, making adjustments even in the darkest conditions easy.
Dimmer Control- We listened to your feedback over the years and that's why the SR-955HPC comes with a 32 position dimmer circuit with the lowest position turning the lights all the way off. If your eyes are sensitive to certain lights in the dark this is a must have feature!
Clarifier - Our clarifier gives you the option of choosing if you want the fine control to be used only on receive or also on transmit. You can also select how much range the fine and coarse clarifiers have.
Band / VFO - You can choose between using traditional band mode or VFO mode for continuous operation throughout the frequency range.
PC Programmable - You can further customize your radio using your PC!
Digital Echo with/ Dual Front Mounted Controls - Provides the operator a much wider range of effects and control than typical factory or aftermarket echo boards. Our board is able to reproduce the human voice with virtually no distortion providing maximum clarity and enjoyment.
Six Roger Beeps - Six different roger beeps are included with the SR-955HPC. These are controlled using a switched that is located on the front panel. This is a feature that you will find on virtually no other radio direct from the factory. Most importantly you can create your own customizable roger beeps using our PC software and then load them on to the SR-955PHC's on board memory!.
Variable Power Control Allows the operator to adjust or vary their carrier from a two watt to over 70 watts PEP.
Variable Talk Back ControlThe infamous talk back squeal is virtually eliminated with our independently controlled talk back circuitry. The operator can adjust the volume to the perfect level as operating conditions require. Best of all the user no longer has to turn down the microphone gain to stop the annoying squeal that is often the result of poor design or cost cutting at the production level.
Up-Armored Receiver- Our exclusive receiver protection works even under the harshest conditions, such as those experienced at a busy truck stop with many operators running high power radios. In addition our receiver filtering is tighter than most radios on the market. This means adjacent channel rejection is improved.
Source USA:
http://www.copper.com/cart/Radios/10-Meter-Radios
#Stryker
#SR-955HP
par Dundee33

le Sam 04 Fév 2017, 15:03
Rechercher dans: Galaxy, Stryker
Sujet: Stryker SR-955HP (Mobile)
Réponses: 16
Vues: 2529