La date/heure actuelle est Mar 26 Oct 2021, 10:38
2 résultats trouvés pour Mac
Probablement la seule antenne CB empilée colinéaire,
un vrai monstre!
Une 5/8 sur une antenne 1/4 lambda!
Rapport d'un forum américain:
Le Big
Mac
est la seule véritable antenne collinéaire CB que j'ai jamais vue. Cela signifie que l'antenne est plus qu'une seule antenne dans un seul paquet. Le Big
Mac
est une onde 5/8 sur une antenne 1/4 onde. La bobine au milieu de l'antenne est une bobine de correction de phase et elle fournit la phase et l'impédance appropriées pour entraîner la section d'onde supérieure 5/8.
C'est une antenne à faible rayonnement comme la Sigma IV et a des performances très similaires. L'antenne est plus compliquée que la Sigma IV mais sans plus. Les chances d'en trouver une sont très minces. Au cours des années, j'ai parlé à quelques personnes qui les ont eues. Un qui avait à la fois une Big
Mac
et une Sigma. Ses résultats de test ont indiqué que le Big
Mac
était presque identique à la performance de la Sigma.
En étudiant ces deux antennes, je dois dire que je crois que le Big
Mac
pourrait avoir un léger avantage. C'est très petit et difficile à mesurer puisque nous parlons de quelques dixièmes de db. La personne avec qui j'ai parlé et qui les avait tous les deux, a prétendu qu'il sentait que le Big
Mac
était plus fort, mais il était trop proche pour l'appeler.
La Big
Mac
a eu quelques problèmes. L'accumulation de neige ou de glace sur les isolateurs de bobine désaccorda l'antenne. La bande passante sur le Big
Mac
colinéaire est inférieure à la Sigma. Sa grande taille contribue à des défaillances mécaniques similaires à ce que nous voyons dans les nouveaux clones Sigma.
Cette partie suivante est basée quelque peu sur ma théorie de la façon dont la Sigma fonctionne. Si quelqu'un n'est pas d'accord, n'hésitez pas à l'expliquer. Alors que les deux antennes ont à peu près la même longueur. La plupart d'entre nous sommes d'accord que le Sigma ne rayonne pas de sa base pendant que la Big
Mac
le fait. Cela semblerait désavantager la Sigma par rapport à la Big
Mac
.
Je ne suis pas d'accord sur ce point. Comme presque aucun rayonnement ne se produit dans l'onde inférieure du Sigma, presque toute l'énergie est disponible pour irradier la partie supérieure. Lorsque la longueur d'un radian résonnant est augmentée de 1/4, 1/2, 5/8 et 3/4, la tension RF au sommet de l'antenne a tendance à augmenter. C'est pourquoi la demi-onde supérieure de la Sigma surpasse considérablement tout autres radians demi-onde.
Erfahrungsbericht aus einem US Forum:
The Big
Mac
is the only real CB collinear antenna I've ever seen. This means the antenna is more then just one antenna in a single package. The Big
Mac
is a 5/8 wave over a 1/4 wave antenna. The coil in the middle of the antenna is a phase correction coil and it provides the proper phase and impedance to drive the top 5/8 wave section.
This is a LOW ANGLE radiation antenna just like the Sigma IV and has very similar performance. The antenna is more complicated then the Sigma IV but don't get your hopes up. Chances of finding one are very slim. Over the years I have talked to a just a few people who have had them. One who had both a Big
Mac
and a Sigma. His test results indicated the Big
Mac
was nearly identical to the performance of the Sigma.
From studying these two antennas I have to say I believe the Big
Mac
may have a slight advantage. This is very small and difficult to measure since we are talking about a few tenths of a db. The person I spoke with who had them both, claimed he felt the Big
Mac
was stronger however, it was too close to call.
The Big
Mac
did have a few problems. Snow or ice buildup on the coil insulators will detune the antenna. Bandwidth on the Big
Mac
collinear is less then the Sigma. It's large size contributes to mechanical failures similar to what we see in the new Sigma clones.
This next part is based somewhat on my theory of how the Sigma works. If anyone disagrees, please feel free to explain. While both antennas are about the same length. Most of us agree the Sigma does not radiate from it's base while the Big
Mac
does. This would seem to place the Sigma at a disadvantage to the Big
Mac
.
I disagree based on this. Since nearly no radiation is taking place in the lower 1/4 wave of the Sigma, almost all of the energy is available to radiate off the top section. As the length of a resonant radiator is increased from 1/4, 1/2, 5/8, and 3/4 wave, the RF voltage at the top of the antenna tends to increase. This is why the top 1/2 wave of the Sigma greatly outperforms any other half wave radiator.
Source (Allemagne):
http://www.sofafunker.de/
#Ham
#International
#Big
#Mac
#colinéaire
par Dundee33

le Sam 18 Nov 2017, 13:31
Rechercher dans: Accessoires ... + Antennes Radios
Réponses: 3
Vues: 1726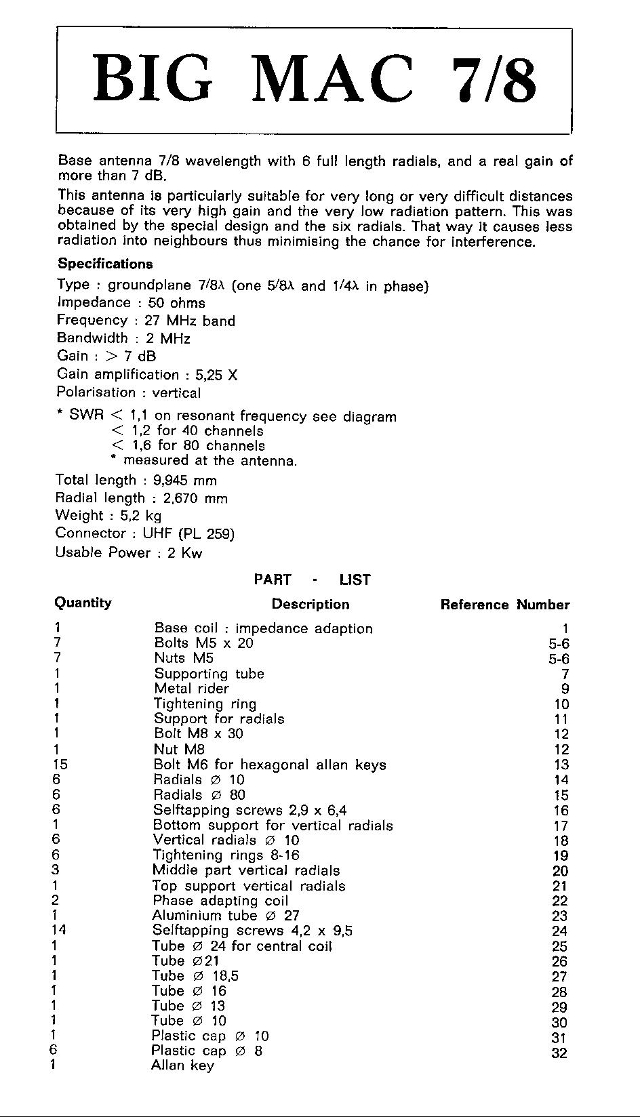 27 Mhz
7/8
Source (Allemagne):
http://www.sofafunker.de/
#Ham
#International
#Big
#Mac
par Dundee33

le Sam 18 Juin 2016, 23:02
Rechercher dans: Accessoires ... + Antennes Radios
Réponses: 3
Vues: 1726