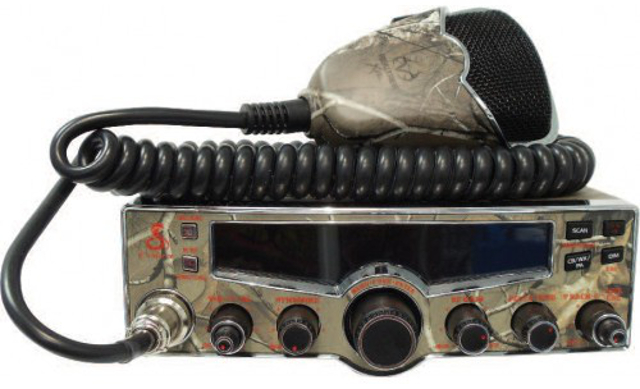 AM
4 Watts
Weather Scan Feature is Dramatically Different
Plus de détails ici:

In Realtree? Camo finish.
Technician Friendly
Same size as Cobra 29LTD series
Same accessories
Automatically advances to the next clear
Weather channel when driving cross-country
Software Controlled Menus
4-color Display
All Channel Scan
Memory Channels
Cobra 29 Reliability
On the outside, this CB features a completely redesigned, modern look with selectable LCD display that can be red, green, blue or amber to match the interior of a cab. THIS SPECIAL MODEL HAS In Realtree? Camo finish. The display also has customizable night and day settings to enhance readability in both very bright and very dark conditions. The 29 LX?s large center scroll knob provides simple one-touch programming of the unit for easy setup and channel changes. Lastly, the 29 LX includes a redesigned ergonomic microphone for easy and comfortable use.
Internally, the 29 LX is based on the classic 29 LTD with some new added features. The new weather alert scan automatically advances to the next clear NOAA weather channel when driving cross-country, ensuring the driver is always getting the latest weather alerts and warnings. Also new in the 29 LX is the industry?s first and only Radio Check Diagnostic. Now drivers can monitor continuously their radio?s RF output, SWR setting, and battery voltage. Like previous Cobra 29 models, the 29 LX includes 4 Watts AM RF power output, the maximum allowed by law, instant access to emergency channel 9 and information channel 19, as well as Delta Tune to clarify incoming signals and adjustable Dynamike? boost, which increases the microphone?s sensitivity for increased voice clarity.
Source USA: http://www.copper.com/cart/Radios/CB-Radios
#Cobra
#29
#LX
#Camo
---
Permission de ce forum:
Vous
ne pouvez pas
répondre aux sujets dans ce forum