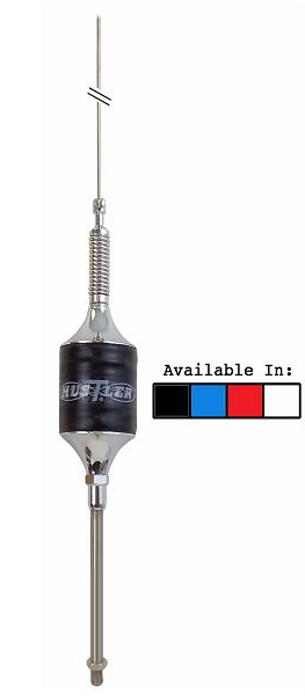 Designed to meet the most demanding applications, the SCBS sets new standards in
electrical performance as well as durability.
The large diameter, high efficiency coil is computer designed to the optimum length to diameter ratio.
This results in a coil capable of easily covering 120 channels at 1000 watt power levels.
The lower half of the SCBS is constructed from 3/8 inch diameter, solid stainless steel rod which isvirtually indestructible.
A stainless steel spring is mounted on the top of the coil where shock absorption is most effective.
The SCB-S is the short shaft and only 35 inches tall. The SCB is 46″ tall.
Both are available in red, white, black and blue
It mates with 3/8″ X 24 threaded mounts.
Model:  SCB-S
Description:
9″ height to coil
35″ overall height
Approximate Bandwidth:
150-200 kHz
Available  Colors are Black, Blue, Red, and White.
Source USA:
[Vous devez être inscrit et connecté pour voir ce lien]
[Vous devez être inscrit et connecté pour voir ce lien]
[Vous devez être inscrit et connecté pour voir ce lien]
[Vous devez être inscrit et connecté pour voir ce lien]
_________________
73'51 de Dundee33 ~ 14DR33
(Poste: CRT ss 7900)

Sujets similaires
---
Permission de ce forum:
Vous
ne pouvez pas
répondre aux sujets dans ce forum