La Planète Cibi Francophone :: Le Musée de la Planète CB :: Cobra, CCE, Emperor, Ferris, Magnum, Pegasus, President, Stabo, Stalker, Swiss, Uniden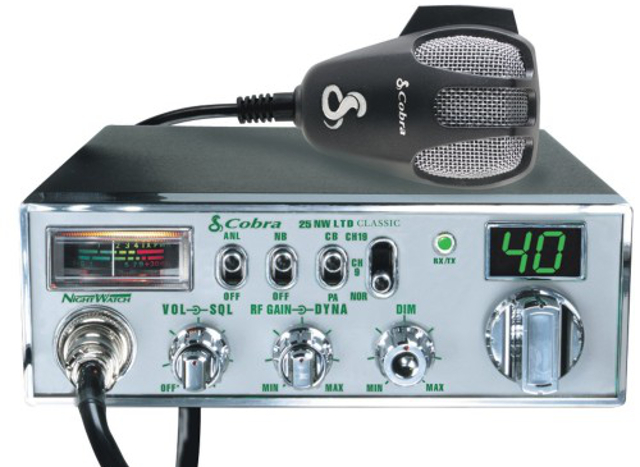 40 Channel
AM
4 Watts
Plus de détails ici:

Fully Illuminated Display
Dimmer Control
Instant Access to Emergency Ch.9
Instant Channel 19
RF Gain, Automatic Noise Limiter
Front Panel Mic Connector with 9' Cord
Full RF Power Output
Dynamike Gain Control
PA Function
2 year warranty
Outstanding Features: 25-NW
NightWatchTM Illuminated Front Panel Ideal for switch and control recognition day or night.
Variable Dimmer Control Adjusts brightness of the front panel, channel display and signal strength meter.
Front Microphone Connector Allows convenient installation to be in dash or under dash.
9 Foot Microphone Cord For easy reach within any area of the vehicle.
4 Watts AM RF Power Output The maximum allowed by law.
Tactile Controls Allows you to actually feel where the dial is in it?s rotation without taking your eyes off the road.
Adjustable Dynamike Boost Dynamically boosts microphone for increased voice clarity.
PA Capability Use CB radio as a Public Address System with PA speaker. Receive signals can also be monitored through PA.
Switchable Noise Blanker For increased noise reduction.
Source:
[Vous devez être inscrit et connecté pour voir ce lien]
[Vous devez être inscrit et connecté pour voir ce lien]
[Vous devez être inscrit et connecté pour voir ce lien]
[Vous devez être inscrit et connecté pour voir ce lien]
[Vous devez être inscrit et connecté pour voir ce lien]
[Vous devez être inscrit et connecté pour voir ce lien]
[Vous devez être inscrit et connecté pour voir ce lien]
_________________
73'51 de Dundee33 ~ 14DR33 ~ 14ODR002
(Poste: CRT ss 7900)
---
La Planète Cibi Francophone :: Le Musée de la Planète CB :: Cobra, CCE, Emperor, Ferris, Magnum, Pegasus, President, Stabo, Stalker, Swiss, Uniden
Page 1 sur 1
Permission de ce forum:
Vous
ne pouvez pas
répondre aux sujets dans ce forum